※This event ended on Dec 12th, 2021


9th International Projection Mapping Competition
【1minute Projection Mapping in Tokyo】
~ Open Call Guidelines ~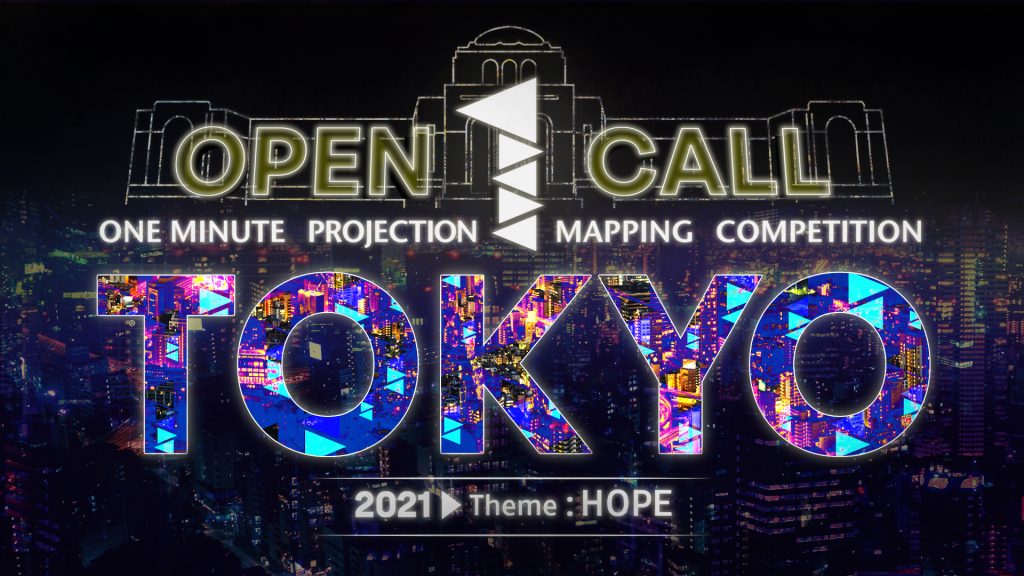 【 Introduction 】
Due to COVID-19 and the global pandemic, we are in an era where consciousness change is required in the midst of anxiety and change, causing a heavy burden also to creators. This competition was also influenced by the pandemic and was unable to be held last year. However, we have received many voices from a lot of creators who are looking forward to its restart and we have been supported by them. And we are able to implement it again this year and we feel that all the people involved are very grateful. We would like to thank everyone who has supported us.
In such a difficult situation in the world, we are facing the future, encouraging each other and many new challenges have begun. And many possibilities have sprung up with people moving towards a new stage. The creators who are ahead are responsible for drawing that vision and delivering it powerfully.
In order to convey that expression, we have prepared the best place and environment in the capital "Tokyo"! The venue, the Meiji Memorial Picture Gallery, was built in a turbulent era about 100 years ago and is a very beautiful historical building that represents Tokyo. Located in the center of "Tokyo" where the Olympics and Paralympics have just finished, we believe it is the best place in Tokyo for projection mapping and viewing. Challenge it with all the energy of various thoughts and expression that you have accumulated during this past one year of waiting.
---

【The 9th Competition Theme】
The theme for this year is "Hope". Draw a vision that gives people hope and courage and envisions a positive and energetic future in this uncertain era. Human potential has always emerged from the challenge of confronting difficulties, where they find many hopes and create the future. In Japan, vision drawn by creators, including animators such as Osamu Tezuka, has a history of encouraging people and the society to move forward.
Create a work that can push people's back as a light of "hope" in this chaotic era, and to encourage possibilities that leads to the future.
---

【 Competition overview 】
■ Competition Name:The 9th「1minute Projection Mapping in TOKYO」
〜 9th International Projection Mapping Competition in Japan 〜
■ Theme:希望 / HOPE
■ Planner:Projection Mapping Association of Japan

【 Projection Mapping Venue and Building Size】

Meiji Jingu Gaien Meiji Memorial Picture Gallery
(Address:1-1 Kasumigaokamachi, Shinjuku-ku, Tokyo 160-0013 Japan)
(Google Map (https://goo.gl/maps/fWFZqTdD6cUirmfz7)
Building size of the projection plane: Width 112m, Height 32.1m ( Center dome apex)
【 Data content of submitted video: First Screening 】
Resolution: Please reduce the size and send in Full HD (1920×1080pixel)
Contents Length: 1min ~ 1min 59sec
Frame Rate:30/fps
Video Format: MOV, MP4, audio included
Duration:1'00-1'59(more than 1 minute, less than 2 minutes)
Video data filename: Entrynumber_team_date.mov
Eg) 001_tokyomapping_20210825.mov
【 Data content of submitted video: Final Delivery (Projection) Data 】

Resolution: 6656 x 1920 pixel
Contents Length: 1min ~ 1min 59sec
Frame Rate:30/fps
Video Format: MOV (HAP (recommended), ProRes, Photo Jpeg)
Audio: Embed with video, and attach a wav data of the same length as the video
Video for previewing purposes: Equivalent mp4 in FullHD
Video data filename: Entrynumber_team_date.mov
Eg) 001_tokyomapping_20210924.mov
【 Production Video Template(2D & 3D)】
The secretariat will distribute the template data together with other documents for those who have entered.
(※Do not transfer, reprint or make secondary use of the distributed materials)
---

【Recruitment Period】
Entry Start: July 1st, 2021
※The secretariat will send more information to those who have entered
Entry End: Aug 25th, 2021
Video Data Delivery: Sept 24th (Japanese time GMT + 9, at 23:59:59)

(Japanese time GMT + 9, at 0:00)

First Video Screening: Sept 25th ~
Announcement of Finalist Works: Will be notified as soon as it is decided (Email notification to all applicants, notification on the web)
Final Video Delivery: Nov 12th, 2021
Screening of Finalist Works: Dec 9th, 2021 ~ Dec 12th, 2021
Announcement of results, Award Ceremony: Dec 11th or Dec 12th, 2021
※The event schedule might change depending on the Covid-19 situation

【 Number of screenings】
Finalist works:About 20 works (planned)
※Works that have passed the screening may not be screened depending on the state of the final work (completeness, inappropriate content, copyright infringement, incomplete data, etc.). This will be notified to applicants in advance.
※Even if the work is not selected for screening, we plan to project it outside of the screening time and send the recorded video to each creator who wishes to have them ( Submission of video data in full resolution is required ). However, this is not a guarantee.

【 Information about applications and submission 】
Video data (MOV, MP4, audio included)
※ There is "Team name", "Title" and "Video Length" on the distributed Illustrator・AfterEffects files, so please fill it in together with your works.
Title (upon submitting data)
Description of the work concept, theme and content (about 200 words, upon submitting data)
1 Capture image of the work (6656 x 1920 pixels , upon submitting  data)
Creator name, Team name, Company name (Entry name to be written and published)
Creator, Team profile (approx. 200 words)
Image of the creator/production team's photo, logo, etc.
Name and contact information of the representative (E-mail, address, telephone number)
Country ( List all if there are multiple )
Home page URL, Facebook page, blog etc.
Other special notes and notices regarding application
【 How to apply, how to submit video data 】

To enter, please fill out the necessary information from the form below and apply.
http://1minute-pm.com/en/application_form/
(※Template data for production and other documents will be distributed to those who have applied)
Please upload your work to a shared server on the Internet and send the URL for download.
Submit to: Please submit to the work data submission form that is sent to you when you register for the competition.
---

【 Award and Supplementary Prizes 】
Grand Prize: 2 million yen, trophy, supplementary prize, invited as guest creator for the next competition.
Second Prize: 500k yen, trophy, supplementary prize
Jury Prize: 200k yen, trophy, supplementary prize
Organizer Award: 100k yen, trophy, supplementary prize
Audience Award: 100k yen, trophy, supplementary prize
【 Juries 】
Experts, Guest Creator, Organizer Officials, other details will be announced on a later date.
---
【Points to note when applying 】
Please read the following carefully before applying. If a submitted work violates the regulations, it will not be accepted.
It will not be accepted as a judging work in the following cases.

If the video does not follow the production format (in the case where the video is not mapped)
If the video is damaged or cannot be played.
If the video is significantly offensive to the viewers, with excessively stimulating expressions, sexuality, strong religious views or political messages.
The video length is less of exceed the regulation (1min ~ 1min 59sec)

If there are any unavoidable circumstances that causes you to not meet the application period, please consult our office with the reason and timing.
The submitted work is guaranteed to not infringe the intellectual property rights and ownership of third parties. In the unlikely event that a dispute is filed by a third party due to infringement, the applicant himself/herself is solely responsible for the financial burden (including the attorney's fees) and compensation of the damage so that all parties involved in this project are exempted from liability.
Please make sure that you can manage the copyright of materials such as photos /video / music / sound effects used in the submitted work.
The organizer/planner will not handle any troubles regarding copyright infringement or complaints. In addition, works that infringe various rights will be disqualified from participating in the competition. If the work was awarded a prize, the award will be cancelled and the prize money and supplementary prizes will be returned.
Please be considerate of the content as the many people from children to elderly will be watching the video screened at the venue.
Applicants must not publish videos, local records etc. on the WEB, SNS or any other places where third party can view the videos without permission before the results of the competition is announced ( to ensure fairness in judging ). However, any information that the organizer/planner publishes to the public can be shared.
The distributed production template data must not be reprinted, distributed or published without permission.
In addition, if you make comments or write on SNS that will affect the judging or the competition, you will be disqualified from participating in the competition.
【 Other copyrights and usage rights 】
The copyright of the video and sound source data of the submitted work belongs to the creator and the creator's team. However, at the time of screening, under the management responsibility, Projection Mapping Association of Japan (aka Mapping Association) may make several adjustments (such as image brightness, contrast, color tone, volume adjustment etc). The creator and the creator's team shall not exercise any moral rights against Mapping Association.
Under the management of Mapping Association, the organizing executive committee, co-sponsors and Mapping Association shall reserve the rights to use the submitted video data permanently and have the rights to screen it at the same venue as well as at related events, demonstrations and other projects after this project.
Mapping Association, the organizing executive committee and co-sponsors can record videos and photos of this project.
Mapping Association, the organizing executive committee and co-sponsors will be able to develop and sell various goods and products using the recorded photos and videos of the projection mapping performed at the venue.
The organizer, co-sponsor, photographer own all the ownership of the recorded photos and videos taken by the organizer, co-sponsor and planner.
The images provided and the recordings taken may be used by Mapping Association, the organizing executive committee, co-sponsors and the competition sponsors for publicity and reporting of the project, or introducing projection mapping or events etc.
If there are co-sponsors, sponsors, cooperating companies etc., under the management of Mapping Association, the screenings etc. can be used for product promotion and promotion of each company.
Upon submitting entry document, the applicant agrees to all of the above and promises not to exercise copyright or moral rights for any secondary usage by Mapping Association.

※For other FAQ, please click here※
---
=========================================
【Contact, Q&A】
Competition office (in Projection Mapping Association of Japan)
E-mail:info@1minute-pm.com
TEL:+81-3-6416-9496
Official Site:
http://www.1minute-pm.com
=========================================