NIIGATA MINATOPIKA2015
---
---
"The 4th 1 minute projection mapping", the contest in which creators from all over the world compete their expression, was held in Niigata city for the first time in this year.
The theme of this year was defined as "CROSS/INTERSECTION" such as cross-culture, cross-race, cross-nation, cross-art, cross-age, cross-technology, and cross-media. We looked forward to seeing what kind of CROSS would be proposed and visualized from Niigata, Japan.
The contest was held for 5 days from 19th to 23rd November 2017 in Niigata city, and about 47,000 people visited.
GRAND PRIZE

Neba Studio ×Kaze Patricio Chan「Hyakki Yagyo」(Macau)
SECOND PRIZE
AVA Animation and Visual Arts「Wind Rose」(Mexico)
JURY'S SPECIAL AWARD

100 Plus Imaging Art and Technology「Intersected Parallelity」(Macau)
CITY'S SPECIAL AWARD
株式会社 WaveLabo「クロスワード」(Japan)
AUDIENCE AWARD
One mappar「Cross of culture~ukiyo-E-do~」(Japan)
---
Finalist Works
| | |
| --- | --- |
| | |
| Javier Omar Sanchez Osorio「Delta Origin」(Mexico) | ruestungsschmie.de「RAUMZEIT」(German) |
| | |
| --- | --- |
| | |
| kuma 制作事務所「交差」(Japan) | NEED「Spirito」(Italian-Romanian) |
| | |
| --- | --- |
| | |
| QUA2DUO「YES,Q2D.」(Japan) | harumaki「GARDEN」(Japan) |
| | |
| --- | --- |
| | |
| artcode「era」(Japan) | Eduzal & Ruben Velloso「A Bridge Between Opposites」(Brazil) |
| | |
| --- | --- |
| | |
| VJZARIA「hier&jetzt」(Brazil) | ILUMINOUS「Consenso」(Brazil) |
| | |
| --- | --- |
| | |
| LUCY BAYU KURNIYAWAN A.K.A LUWKY「BETTER TOGETHER」(Indonesia) | |
---
SPECIAL STAGE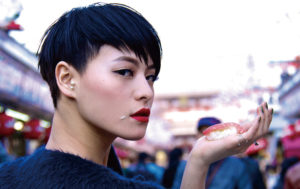 "KOHARU SUGAWARA"
KOHAEU SUGAWARA is the most famous and attractive dancer and choreographer of Japan. We invited her as a guest, and collaborate show of dance and projection mapping attracted audience and whole world.
official website – http://koharusugawara.com/
---
Past Events