The 6th International Projection Mapping Competition
1-minute Projection Mapping in Huis-Ten-Bosch
~ Application ~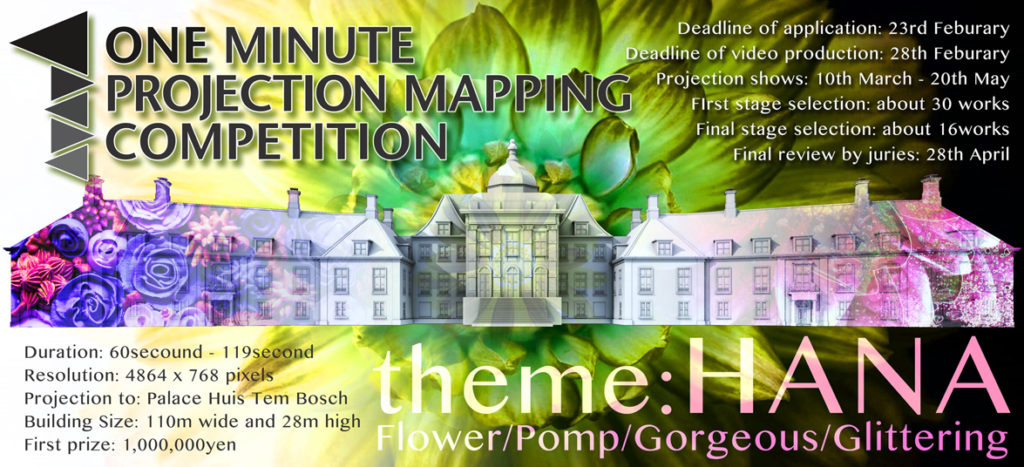 Theme:
"HANA (Flower/Gorgeous)"
1-minute Projection Mapping is an international competition and one of the biggest mapping contests displaying video works onto an existing building in Asia area. The 6th competition and event will be held at the Huis Ten Bosch, which is an amusement park in Nagasaki, Japan. We call for short video artworks related to the theme of year "HANA" and designed to map onto 'Palace Huis Ten Bosch' that is one of beautiful building in the park.

【 Introduction 】
Projection-mapping (PM) has been recognized as a cool and hot media art in the world. In Japan, the "1-minute Projection Mapping" started in 2012, and many great artworks from the world have been demonstrated at several art festivals in Kanagawa and Niigata prefectures. It has been a great opportunity for many people to understand and enjoy PM in open space. This year it will be held at Huis Ten Bosch in Sasebo City of Nagasaki prefecture, which is an amusement park of old Netherland town and culture. The place is also known as the one that introduced permanent projection-mapping shows and systems as a commercial use originally. It is expected to become the most promising mapping show in this spring among many people involved in PM.
Last year 79 applications from 25 countries/regions were submitted to this competition, and the number of applicants is increasing year by year. Because of the limitation of site use and time schedule, only 18 works were selected as a finalist and their works were demonstrated at the event. This year, on the other hand, the selected finalist projects are supposed to demonstrate for about 70 days at ''Palace Huis Ten Bosch'' of the amusement park. As long as we know, this will be the longest PM contest show in the world. Though it is getting very competitive to be selected as a finalist, it will be a great chance for creators to challenge an innovative idea and get the direct feedbacks about their works from audience.
This competition has two unique requirements. One is on the duration. It is the shortest video mapping contest in the world, and each creator is expected to demonstrate originality, visual techniques, attractive story, and innovative idea as much as possible within a 1'00 – 1'59 (less than 2 minutes) movie.
Another is on the theme of project. It is asked to make the story and contents related to the selected key-word theme, which changes year by year. "HANA" is defined as the theme of this year. This Japanese word has several different meanings such as flower, pomp, gorgeous, and glittering. The Huis Ten Bosch is a beautiful and gorgeous amusement park filled with flowers in all four seasons. And Nagasaki had a harbor to trade with other countries when Japan was closed in the Middle Ages, so the area has mixed pomp culture of Western and Eastern as a gate-town. It is also famous as a city of top-three night views in Japan. The theme is defined based on these back-stories.
We look forward to seeing your glittering flowers and/or gorgeous illuminations on a beautiful building in Huis-Ten-Bosch.
---

【 Organization 】
■ Official Event Name:1 minute projection mapping in Huis Ten Bosch
— 6th international projection mapping competition in Japan
■ Theme of year:HANA(Floor/Pomp/Gorgeous/Glittering)
■ Host:Huis Ten Bosch INC.
■ Assisted By: DNP Art Communications Co. Ltd.
■ Produced By:Projection Mapping Association of Japan

【 Site and Building Information 】

【 Movie Format 】
Resolution:4864 x 768 pixel(Split to 5 monitors)
Frame Rate:30/fps
File Format:Quicktime(MOV), Photo JPEG Animation, MP4(H264)
Duration:1'00 – 1'59" (more than 1 minutes less than 2 mintues)
Sound:Embedded into the movie file, or send the WAV data with the same duration

【 Template Files(2D & 3D)】
After your online registration from the link ( http://1minute-pm.com/en/application_form/ ), the contest office will send template data to you.
(※ The distributed template data is not allowed to use for the other purpose)

【 Important Dates 】
Deadline of application : Feburary 23rd
※The update news will be sent to the registered e-mail account
Deadline of video production : Feburary 28th
Submission Due for Stage-1:March 1st ~ March 5th(Monday), 2018
Result of Stage-1:April 6th(Tuesday) by e-mail and announced at our WEB site
Demonstration of Stage-2:March 10th (Saturday) – April 18st (Sunday)
Result of Stage-2:1 – 2nd week in April by e-mail and announced at our WEB site (Wednesday)
Demonstration of Finalists:April 19th (Monday) – May 20th (Sunday), 2018
Final Result : April 28th (Saturday)
※The schedule may be changed based on the business issue.

【 Finalists 】
Stage 2:30 Projects
Final Stage:15 – 18 projects
※The finalist may not be demonstrated at the mapping event if there is a copyright issue or improper (adult/violent) content.
※The projects, which are not selected, will be also tested on the building and recorded the scene.

【 Submission Requirement 】
Movie file (with music and sound effects)
Title Name
Summary/Concept of project(200 words at Stage-1)
Representative Screen Shot Image
Name of creator (or team)
Profile(200 words)
Photo and Logo of creator/team (over 1024 ×1024 pixel)
Contact(E-mail, Mail Address, Telephone number)
Country
Website URL (* If you have)
Other comments (* If you have some special comments)

【 Submission Method 】


【 Awards 】
Grand Prix Award (First Place), Second Place, Special Jury Award, Huis-Ten-Bosch Award, Audience Award, etc.
An extra prize will be given to each award winner.
Grand prix winner will be invited to the next 1-minutes projection mapping event as a guest creator.
Audience Award is based on voting by audience for April 2nd – 26th.

【 Jury 】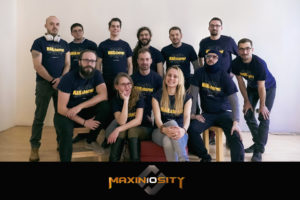 Maxin10sity
"iMapp" , which is held every year in Bucharest, Romania , is one of the biggest projection mapping contests in the world."Maxin 10sity" who is a pioneer of projection mapping in the world and the organizer of "iMapp" will take part in our competition as a jury.
<Maxin10sity / Official WebSite>
https://www.maxin10sity.net/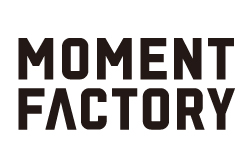 MOMENT FACTORY
Moment Factory is a multimedia entertainment studio based in Montreal. They have produced over 400 unique shows and destinations creating remarkable experiences around the globe, including projection mapping on Sagrada Familia, Half-Time Show of Super Bowl, and installations at Los Angeles International Airport.
<MOMENT FACTORY / Official WebSite>
https://momentfactory.com/home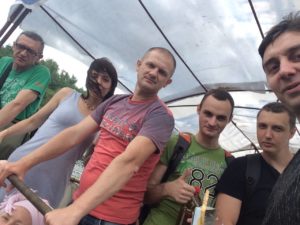 EuroVideoMapping
They got Grand Prix at last time competition, "1minute Projection Mapping in Niigata."
Furthermore, they have received a number of awards in international projection mapping contests and VJ contests.
They are the union of creators from all over the Europe, as their name suggests, and works in Europe mainly.
<EuroVideoMapping / Official WebSite>
http://eurovideomapping.com/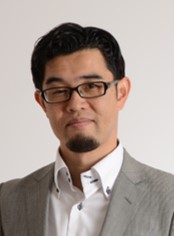 石多 未知行
Chief Director and Creative Director of Projection Mapping Association of Japan. He works not only domestic but also international, and is the leading person of projection mapping in Japan.
<PMAJ / Official WebSite>
http://www.projection-mapping.jp/

【 Prohibited Matters 】
The project with the following prohibited matters is NOT accepted
The contents are not based on our mapping template.
The movie file is not opened and played with common codec.
The contents have so strong political and religious messages that some audience may feel uncomfortable.
The duration is too short or too long.
Submission after the deadline.
*)If it will be late with some valid reason, let us know in advance.
The demonstration requires special settings, which we cannot support.
*) If it needs additional settings such as sensors, cameras, and dance performance, ask us in advance.
The contents have illegal copy-righted items.
*) It is applicant's responsibility to clear any copy righted issue on images, sounds, and fonts before submission. If the problem is found, any award will be lost and returned.
The contents have adult or violated scenes.
*) The audience includes kids and old persons.
The project is opened to public at WEB or SNS before the judgement is completed.
This is to keep the judgement fair.
If it is not clear, feel free to ask us by e-mail: PMAJ Office:<info@1minute-pm.com>

【 Copy Right and Content Use 】
All copyright of submitted materials such as movie and sound contents belongs to the applicant(s).
The Projection Mapping Association of Japan (PMAJ) has the responsibility to manage the submitted materials.
It is allowed for PMAJ to modify the submitted materials only for projection mapping environment such as hue, contrast, brightness, and volume of sounds without permission of copyright owner.
It is allowed for the organization group, which are Huis Ten Bosch INC (HTB), DNP Art Communications Lt. Co (DNP), and PMAJ, to display the submitted materials freely onto the building and imitated minutia model at the location for any event as well as the competition.
It is allowed for the organizations group, sponsors, collaborators and media to use the submitted materials freely for their promotion and advertisement.
The ownership of recorded materials, which are photos and videos taken during the event, belongs to the people who take and record them.
It is allowed for the organization group to take any official photo and video of mapping show during the event, and use the officially recorded materials freely for any purpose including the promotion, advertisement, and commercial product development and sales even though the recorded scene includes a part of submitted materials.
It is allowed for the organizations group, sponsors, collaborators and media to use the recorded materials freely for their promotion and advertisement.
It is allowed to use the unofficially recorded materials such as photos and videos taken by audience if and only if it is for personal use including SNS and blog distribution.
All agreements above are made effective as of the date when the registration is completed. The copyright owner also agrees that he/she does not exercise any moral rights of author to PMAJ on the right of use.

※For other FAQ, please click here※

【 Sample Projects 】
2014 Finalists https://youtu.be/ELYRG1LrUH0
2015 Finalists https://youtu.be/CkYYmA7hE6A
2016 Finalists https://goo.gl/Jqidn1
=========================================
【Contact, Q&A】
Competition office (in Projection Mapping Association of Japan)
E-mail:info@1minute-pm.com
TEL:+81-3-6416-9496
WebSite:http://www.1minute-pm.com
=========================================
---
---