~ A never-before-seen video art spectacle that brings together 10 of the world's top creators ~
The 10 past grand prize winners of one of the world's largest international projection mapping competition "1minute Projection Mapping Competition" (hereinafter referred to as the "International Competition") will gather all at once on November 10, 2023 to hold the "Winners' Exhibition" where their works can be viewed. The event will be held for three days from Friday, November 10th to Sunday, November 12th at the Meijijingu Gaien Shotoku Memorial Picture Gallery.
At the 11th 1minute Projection Mapping Competition held at the same venue in September, the international competition viewing area was filled every day and received support from a wide range of people. This time, it will be an art exhibition featuring the latest works of the winners up to the 10th Competition. (*This is not a competition)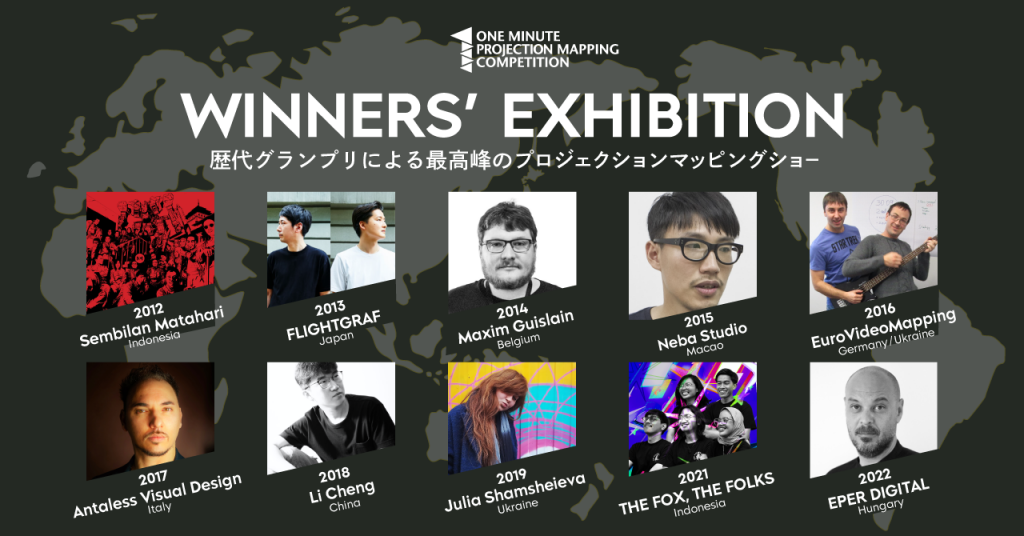 This is the first time TOKYO LIGHTS will be working on top-of-the-line video production using a combination of projection mapping (hereinafter referred to as PM), lasers, and moving lights, by 10 top creators who are active at the forefront of the world. You can experience a valuable three-dimensional art that can only be seen at the Seitoku Memorial Picture Gallery for 3 days only. Please come and experience the spectacular video show that takes place in the gigantic Seitoku Memorial Picture Gallery, which is 112m wide and 32m high. The winner's exhibition will continue to be held as the main content of "TOKYO LIGHTS", a light festival that has become a new light tradition in Tokyo.
【Event Summary】
| | |
| --- | --- |
| Title | TOKYO LIGHTS 2023 Nov. BLUE |
| Date | Nov.10th (Fri)~Nov.12th (Sun) │ 17:00 Doors / /21:00 Close (3 sessions) |
| Venue | Meiji Memorial Picture Gallery and Rubber-ball Baseball Ground at Meijijingu Gaien (1-1 Kasumigaoka-machi, Shinjuku-ku) |
| Entrance fees | Free (Reservation of a ticket is necessary:  https://tokyolights2023ticket-nov.peatix.com/) |
▼Winners' Exhibition   Participating Creators Introduction
※ Name│ Grand Prize Award Year / Country Name
★ EPER DIGITAL │ 2022 / Hungary
EPER DIGITAL │ Bucharest's huge festival imapp 2017 projection
A talented Hungarian digital artist whose victory in last year's competition is still fresh in our minds. His simple, geometric visual expressions leave a strong impression on those who see them, with his skillful use of bright colors and strong structures. His 3DCG projection mapping expressions bring a new sense of immersion and immersion, and have received high acclaim at various international events.
【Achievements Pickups】
– Projection of work at Video Mapping Festival, a huge light festival in Lille, France
– NEXXT – Museum of the Future – Dubai 2022 / Hemisphere projection mapping etc.
★ THE FOX, THE FOLKS │ 2021 / Indonesia
THE FOX, THE FOLKS │ Global Peace Project "Enlightenment" Screening Work
Young stars in Indonesia who appeared dashingly at the 2021 Competition.
Their visual production is currently attracting attention from around the world, and since winning this competition, he has continued to win other international competitions and has been invited to various festivals, making him stand out. The visuals, which combine cute and beautiful hand-drawn animation with unique Asian colors, touch your heart.
【Achievements Pickups】
Indonesia Bertutur opening act/Projected work at Borobudur Temple, a UNESCO World Heritage Site
Received the highest award at BBBank-Award 2023 (Germany), etc.
★ Julia Shamsheieva │ 2019 / Ukraine
Julia Shamsheieva │ 2021 International Competition Guest Works "Every breath"
A woman visual artist from Odesa, Ukraine, who is currently attracting attention from around the world. She has built a career in Russian productions, and these days she creates surreal, highly artistic, and memorable scenes, such as ennui faces, rabbit characters, and pink worlds in her own unique colors. Due to the conflict with Russia, her activities and expressions have attracted attention, but she has now moved her base to Canada.
【Achievements Pickups】
Won Grand Prix at iMapp Bucharest – Winners League 2023, where world champions gather
109 Cinemas Premium Shinjuku (Opened in April 2023) Permanently installed works as vision art in the main lounge, etc.
★ Li Cheng │ 2018 / China
Li Cheng │ Miyazaki International Grand Prix Award Champion with the work "The Nine Colored Deer"
He is an experienced Chinese CG creator who has also worked for a Japanese video production company, and is currently based in Tokyo, where he is involved in various projects. The vivid, transparent, and gorgeous visual expressions depict an extremely beautiful world that invites the viewer into a world of fantasy. He is the first creator to win both the Grand Prix and Audience Award at this competition.
【Achievements Pickups】
PROJECTION MAPPING Okinawa Symphony 2020 in National Theater Okinawa Work Projection
 2019 ACSEE Festival (Datong, China) Projection of works, etc.
★ Antaless Visual Design │ 2017 / Italia
Antaless Visual Design │ Projection at the Italian Embassy in Buenos Aires
He is a creative production company based in Palermo, Italy, and has been involved in video production for many world-class events over the years, producing high-quality CG. Specialized in dynamic and powerful 3DCG expressions, and when combined with music, the visual world approaches the audience with an overwhelming impact that goes beyond the feeling that can only be achieved with projection mapping.
【Achievements Pickups】
Exhibited "POSTHUMANISM", a collaboration with artificial intelligence "Jasper AI", at GenAI Conference (San Francisco)
The Art of Projection 2022 (Florida/Sponsored by Panasonic) Grand Prix Winner
★ EuroVideoMapping │ 2016 / Germany, Ukraine
EuroVideoMapping │ "Festival of Lights" in Berlin – Projection on the Brandenburg Gate
Collective artist video production in which creators from various countries in Europe participate. The representative is a CG creator based in Ukraine, and his technical capabilities in various advanced expressions such as IT and programming are felt at a high level. Pay attention to the excellent expressiveness of the beautifully modeled 3DCG, which is skillfully designed to match the building.
【Achievements Pickups】
PM show projected at Amazonia Mapping Festival, Brazil's largest art and technology event
"TRUdentity" exhibition selection/exhibition by SearchNFTs etc.
★ Neba Studio │ 2015 / Macao
Neba Studio │  Macau Light Festival 2020 Projection mapping show Projection Work
A Macau-based multimedia studio won with its highly entertaining work on the theme of Yokai called Hyakki Yagyō. Has carefully designed contextual aspects and production techniques in his humor, and has produced a wide range of entertainment content. Doing creative work that is unique and gives a fun and extraordinary experience that touches people's senses.
【Achievements Pickups】
PM to Brandenburg Gate at Berlin Lights Festival 2022
"Color is…" announced at Macau Light Festival 2020, etc.
★ Maxim Guislain │ 2014 / Belgium
Maxim Guislain │ Lego block expo "Nature Connects – Art with LEGO®brick" (Belgium) CM
A visual artist who loves Japan and Japanese anime, he uses his genius and curiosity to create a wide range of video production content. He makes full use of fluid calculations and physical calculations, and specializes in production that enhances the affinity between images and buildings. He has been involved in many video and projection mapping projects in Japan, including the stage Evangelion Beyond, Oedo Onsen, and Okinawa Symphony.
【Achievements Pickups】
Stage "Evangelion Beyond" video production
"The art of the brick" exhibition (Amsterdam) TV commercial production
Lego block expo "Nature Connects – Art with LEGO®brick" (Belgium) Commercial production, etc.
★ FLIGHTGRAF │ 2013 / Japan
FLIGHTGRAF │ Work screened at Odawara Castle SAMURAI Hall/PM Theater "Hanacutsu Yoroi" – HANA UTSU YOROI-
They are the the only Japanese winner, and since then they have won many awards and gained experience in competitions around the world, and have continued to explore unique projection mapping expressions. They have created many high-quality works using excellent CG, a stoic world view, and close collaboration with music, and are also working on expressions that involve the production of light. Currently working as one of the world's best video creators representing Japan.
【Achievements Pickups】
109 Cinemas Premium Shinjuku (Opening in April 2023) Permanently installed work as vision art in the main lounge
Mr.Children – DOME & STADIUM TOUR 2017 LED panel visuals
Massive Pikachu outbreak! (2019/Sponsored by Pokemon) In charge of video and sound production, etc.
★ Sembilan Matahari │ 2012 / Indonesia
Sembilan Matahari │ Frankfurt Book Fair Indonesia Guest of Honor Pavilion 2015 Exhibition Works
Indonesian team, whose name means nine suns, is the first winner of this tournament. Since then, they have rapidly expanded his field of activity by winning various international competitions, and have produced many unique videos and creative media art works that feature Indonesian visuals. They are now one of Indonesia's top creators and a leader in the video and media art scene.
【Achievements Pickups】
Video production at BTS & Army 9th Anniversary (2022)
AKANMENGALIR digital art exhibition held, etc.
▼About TOKYO LIGHTS 2023
"TOKYO LIGHTS", which started in 2021, is a light event that sends messages for the future as a new feature of Tokyo. The word "LIGHTS" in TOKYO LIGHTS has various meanings, such as "vision" indicating future possibilities, "innovativeness" indicating expressive technology, "human resources" who will be responsible for the future, and "community" that nurtures and gathers them. We will collect these "lights" and use their chemical reactions to send a shining message of hope from Tokyo to the world.
■At the Festival of Lights, Tokyo is expressed in traditional Japanese colors "red" and "blue"
This year's Festival of Lights will express the months of September and November using traditional Japanese colors, especially "red" and blue", which are considered the "representative colors."
◆ TOKYO LIGHTS 2023 Sep.RED September's theme is "TOKYO RED," which is based on the color red. The coloring is reminiscent of "festivals" and "autumn leaves," and will brighten up the red carpet production reminiscent of the Academy Awards ceremony, which is scheduled for an international convention.
◆ TOKYO LIGHTS 2023 Nov.BLUE November's theme is "TOKYO BLUE," which is based on indigo. Expressing "Edo style" and "Japan blue". Indigo, also known as the "winning color," is the color that symbolizes the Winners Exhibition, where Grand Prix winners from past international competitions gather, further boosting the excitement of the competition.
▶ Official Site: https://tokyolights.jp
※We are promoting HTT initiatives by covering the electricity used on the day through in-house power generation using biofuel.
To enter TOKYO LIGHTS 2023 and view each performance, you must reserve a free ticket in advance. Tickets will be accepted from the URL below from today, October 6, 2023 (Friday).
▶ TOKYO LIGHTS2023 Ticket Purchase Site:https://tokyolights2023ticket-nov.peatix.com/