Three days of autumn art, drawn by top creators from around the world, set in Jingu Gaien during the long nights.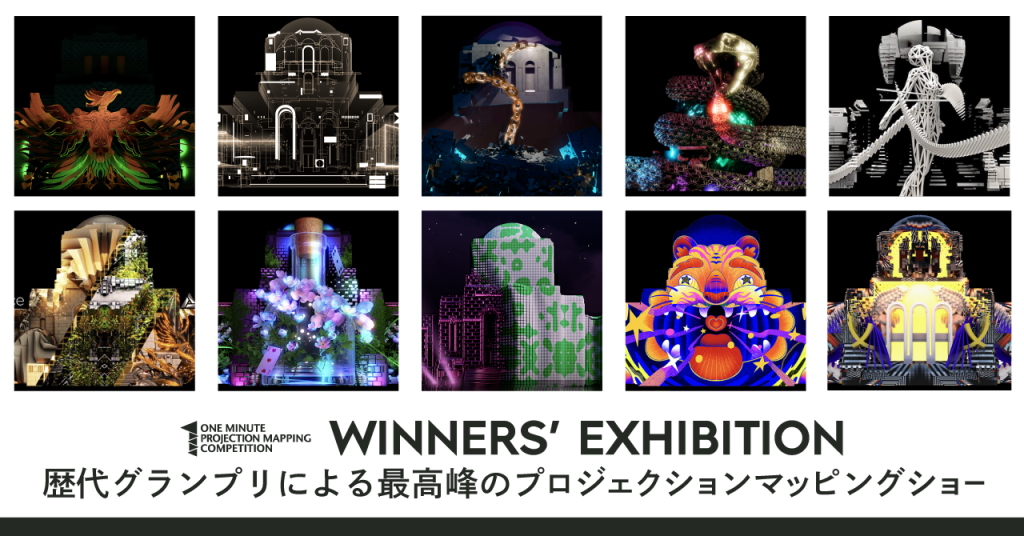 We are pleased to announce details of the films to be screened for the "Winners' Exhibition" to be held at the Meijijingu Gaien Seitoku Memorial Picture Gallery from November 10th (Friday) to November 12th (Sunday), 2023.
There will be video art works from past creators from Indonesia, Japan, Belgium, Macau, Germany, Ukraine, Italy, China, and Hungary who won in the past one of the world's largest international projection mapping competition "1minute Projection Mapping Competition" (hereinafter referred to as the "International Competition") and are active at the forefront of the world.
▼Winners' Exhibition screening work introduction (work title/work concept)
※★ Creator / Artist name  │ Grand Prize Winning Year / Country – Region
★ EPER DIGITAL │ 2022 / Hungary

Work Title:Fragments
We will continue to explore what connects humans and machines, digital and material?
Through music, how do contradictory things come into harmony and how do they interact with the space and objects?
---
★ THE FOX, THE FOLKS │ 2021 / Indonesia

Work Title:HAPPY? HAPPY!
Happy? Happy! , expresses the joy of living that is often forgotten. Happiness comes from unexpected events and interactions with people. The angry tiger looks back on himself, participates in parades and parties, and spreads his happiness to those around him. Even if something unpredictable happens, it may lead to new fun!
---
★ Julia Shamsheieva │ 2019 / Ukraine

Work Title:WINDOW TO U
This work is part of a series dedicated to the transformation of the world, and Japan's support for Ukraine is a symbol of bonds that transcend distance and cultural differences. I dedicate this work to Fuminori Tsuchiko, who moved from Tokyo to Kharkiv to help the people of Ukraine, and to all those who could not remain indifferent to this great tragedy.
Kindness knows no borders, and if we all work together, we can change the world.
---
★ Li Cheng │ 2018 / China

Work Title:Magic Space
Flowers and plants receive various energies from the earth and air to grow, bloom, and leave seeds.
Behind the beauty of flowers is a connection with everything in their environment. This invisible energy is
Flowers magically bloom, delighting our eyes and giving us strength and hope.
---
★ Antaless Visual Design │ 2017 / Italia

Work Title:•EVOLVING SPACE•
The theme is deconstructivist architecture, which is a school of post-modern architecture, and we challenge our own architectural limitations of expressing the space by transforming objects, materials, and structures, and reflecting the decomposition process carried out in deconstructivist architecture on the exterior.
Deconstruction is not just a technique or a disturbing structure.
---
★ EuroVideoMapping │ 2016 / Germany & Ukraine

Work Title:Vinculum
A long time ago, life that came from outer space was born on Earth. Life with common roots has evolved, but the new life forms surrounding us have many things in common and are connected by invisible networks.
Through this link we communicate and exchange information and life energy.
---
★ Neba Studio │ 2015 / Macao

Work Title:OUROBOROS
The motif is "Ouroboros", a symbol of ancient mythology. The snake eating its tail represents a link that has no beginning or end, and symbolizes eternal cycles, rebirth, infinity, and endless connections.
It links with the world, nature, life and death, and asks how humans should connect with the world.
---
★ Maxim Guislain │ 2014 / Belgium

Work Title:Butterfly effect
Everything is connected. Even the simple flapping of a butterfly's wings can have big consequences. This project explores how this butterfly influences buildings, setting off a chain reaction that evolves building facades and transports us through time and into different environments.
---
★ FLIGHTGRAF │ 2013 / Japan

Work Title:Connected
What we imagined from the theme of "LINK" is a life game where you observe life and death.
Nowadays, when we look at the situation in the world from a bird's-eye view, we sometimes feel as if we are being manipulated by someone else. Through this work, the audience is asked whether they are connected somewhere, or whether they were already connected.
---
★ Sembilan Matahari │ 2012 / Indonesia

Work Title:JapaNMenyala
The core of this work is to tell the story of Garuda, the pride of Indonesia. Garuda is a mythical bird that is cherished by the people of Indonesia. This expression of light, called Menyala in Bahasa, signifies a touching reunion that bridges an 11-year friendship and fosters unity.
Concerning the event
This winner's exhibition will be held as the main content of "TOKYO LIGHTS," a light festival that has become a new light tradition in Tokyo.
In addition, TOKYO LIGHTS' first ever projection mapping (hereinafter referred to as PM), a combination of laser and moving lights will be used to create the highest level of visual production, making it a valuable visual art event that can only be seen at this venue during this period.
Admission is free, but advance reservations are required. Please see [Event Overview] for details.
We look forward to seeing many of you.
【Event Overview】
Name
TOKYO LIGHTS 2023 Nov. BLUE
Schedule
Nov.10th (Fri)~Nov.12th (Sun) 2023 │ 17:00 Doors / 21:00 Close (3 sessions)
Venue
Meiji Memorial Picture Gallery and Rubber-ball Baseball Ground at Meijijingu Gaien (1-1 Kasumigaoka-machi, Shinjuku-ku)
Entrance Fee
Free (Reservation of ticket is a must https://tokyolights2023ticket-nov.peatix.com/)
Official Site
1minute Projection Mapping Competition site: https://1minute-pm.com/
TOKYO LIGHTS site: https://tokyolights.jp/