The long-awaited rerun of one of the world's largest projection mapping international competition despite being tossed by a typhoon in September.
~After the corona disaster, a total of 8 countries have come to Japan with high expectations for future inbounds ~
One of the world's largest international mapping competition "1minute Projection Mapping Competition" (hereinafter referred to as the "international competition") has been held on Nov.13th, 2022. This year, 241 teams from 55 countries and regions around the world entered, from which 19 works were screened and judged as finalists.
EPER DIGITAL's work "Elemental constructions" from Hungary won the rigorous examination to get the GRAND PRIZE / TOKYO GOVERNOR PRIZE and also won a prize of 2 million yen.

The Governor of Tokyo, Yuriko Koike, also was present during the award ceremony, and after viewing the works of the international competition, she presented the GRAND PRIZE team with a prize plate and gave congratulatory comment.
▼ Message from the GRAND PRIZE, EPER DIGITAL (Hungary)
Since childhood, Japanese culture has been part of my life and has always been a great inspiration to me.
It is a dream come true to receive such a prestigious award. I would like to thank the judges and organizers for such an opportunity.
▼ Message from the GRAND PRIZE, EPER DIGITAL (Hungary)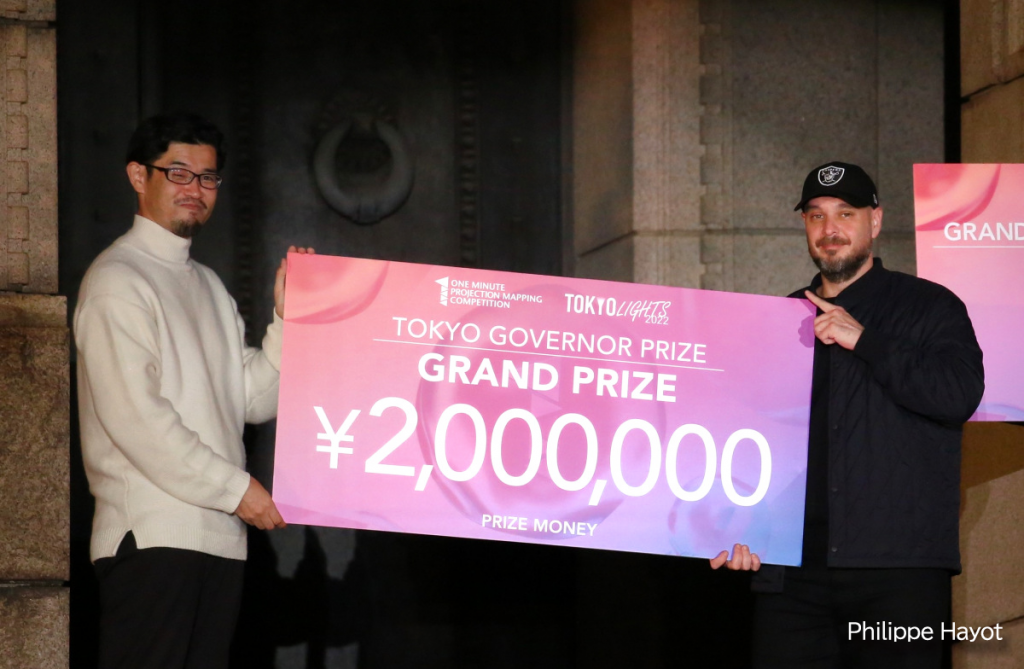 GRAND PRIZE/ TOKYO GOVERNOR PRIZE: EPER DIGITAL (Hungary)
SECOND PRIZE / TOKYO LIGHTS PRIZE, AUDIENCE PRIZE ※Double awards: DecideKit(Thailand)
JURY PRIZE: RESORB(Germany)
Tokyo Tokyo PRIZE: Kurbas Production(Ukraine)
▼ After the competition — Message from Michiyuki Ishita, Representative of the Projection Mapping Association and General Producer of the Competition
"The 10th year of the video festival that produces the seeds of diversity"
Over the past 10 years, this video festival has been nurtured as a place to create diverse values as well as new representations, and each award-winning work presented exactly this new value.
The theme "LIFE" is a global topic of interests that reflects the current trends of the times. The cycle of life, conflicts and changes in lifestyles and values are interspersed with the element of the times to fuse together and form a beautiful show.