The 19 finalists of the world's top-class International Projection Mapping Competition "1minute Projection Mapping Competition" of 2022 (10th competition) have been decided!
This year 241 teams from 55 countries and regions around the world (the highest number ever) took part in the competition. Among these, 19 works survived as finalists in order to be projected at the Meijijingu Gaien Meiji Memorial Picture Gallery and the Grand Prix and other awards will be determined by a rigorous jury consisting of domestic and foreign experts.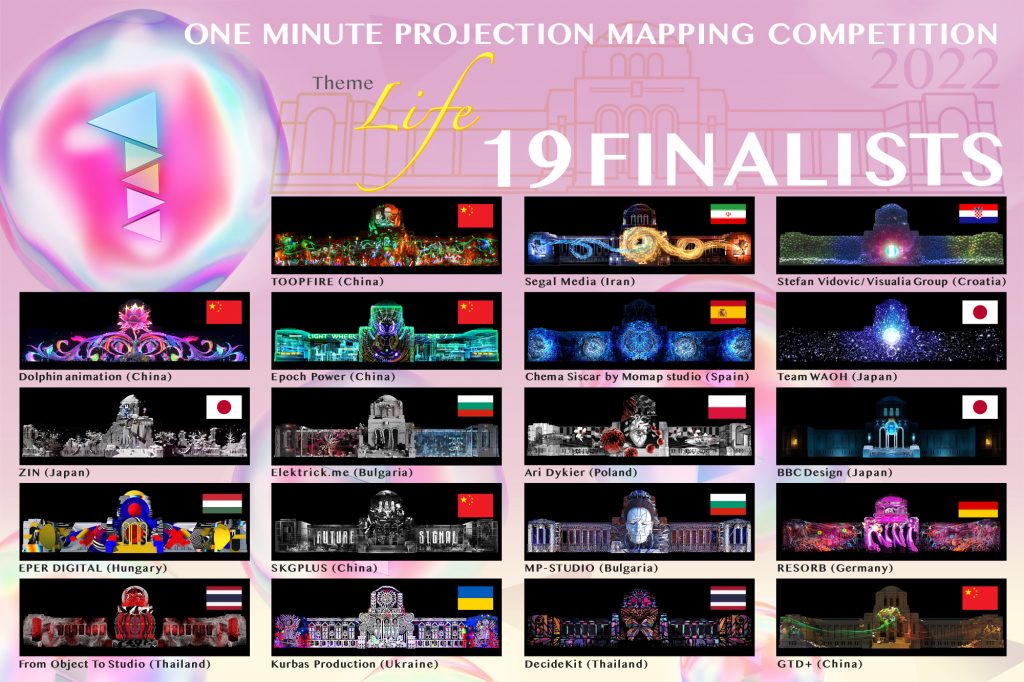 ー Finalist ー
※Title/ Team Name / Country
※In order of entry
「Floating Life」TOOPFIRE(China)

「Rain Of Life」Segal Media(Iran)

「A touch of life」Stefan Vidović Visualia Group(Croatia)

「Life is the flower of desert」Dolphin animation(China)

「Lightwheel 2677」Epoch Power(China)

「The fact of the life」Chema Siscar by Momap studio(Spain)

「Restraint」TeamWAOH(Japan)

「for you & for me」ZIN(Japan)

「Simulation Hypothesis」Elektrick.me(Bulgaria)

「Red Seed」Ari Dykier(Poland)

「結 -yui-」BBCDesign(Japan)

「Elemental constructions」EPER DIGITAL(Hungary)

「FUTURE SIGNAL」SKGPLUS(China)

「Awake」MP-STUDIO(Bulgaria)

「Mutate / Evolve」RESORB(Germany)

「Joy and Glory」From Object To Studio(Thailand)

「Resistance」Kurbas Production(Ukraine)

「Owari (終) ・ Tsuzuku (続)」DecideKit(Thailand)

「Two prisms of life」GTD+(China)

The event will be held for 3 days from September 17th (Sat) to 19th (Mon), 2022. On the final day, the Grand Prix and other excellent works will be determined. Do not miss it, it will be live streamed!
■About the tickets
Advance applications are required to enter TOKYO LIGHTS 2022 and view each performance. Click here to apply for tickets https://tokyolights.jp/en/