Asia's largest international projection mapping competition will be the main program for the first light festival "TOKYO LIGHTS" to be held at Meiji Jingu Gaien from Dec 9th – 12th.
〜 Announcement of 19 finalists for the theme of "Hope"〜
"1minute Projection Mapping" is one of the largest international projection mapping competitions in Asia, started in 2012. This competition will be the main program for "TOKYO LIGHTS", the festival of light which will be held in Tokyo for the first time.
The production theme for this competition is "Hope", where 246 entries were received from 54 countries and regions around the world and 19 groups are decided as the finalists after the first screening. The finalist's work will be screened for four days from Dec 9th on the Meiji Memorial Picture Gallery and there will be a public award ceremony on Dec 12th, where the Grand Prize (Governor of Tokyo Award), Semi-Grand Prize (Tokyo Lights Award), Jury Special Award, Tokyo Tokyo Award and Audience Award by Web Voting. There will be live streaming to audience all over the world as well.
Tickets can be purchased from the official website of "Tokyo Lights". The screenings can be viewed online and anyone can participate in the voting. Let's all enjoy the first Tokyo event!

Overview of the international convention
Title: The 9th Projection Mapping International Competition "1minute Projection Mapping in Tokyo"
Venue: Meiji Jingu Gaien Meiji Memorial Picture Gallery (1-1 Kasumigaokamachi, Shinjuku-ku, Tokyo)
Screening works: 19 finalists' works, 2 invited artists' special guest works, opening special video (3D anaglyph mapping)
Special screening for the press: Dec. 8th, 2021
**We will inform you at a later date.
Date: Dec. 9th – Dec. 12th, 2021
Public Award Ceremony: Dec. 12, 2021
Organizer: Projection Mapping International Award TOKYO Executive Committee
Co-sponsored by: Tokyo  Supported by: Shinjuku-ku
Planning cooperation: Projection Mapping Association of Japan
Comprehensive Producer: Michiyuki Ishita (PMAJ Representative)
Produced by: Avex Entertainment Inc.
<Ticket>https://tokyolights.jp/en
<Online Broadcast>https://www.youtube.com/channel/UC9lf0sz6FtdKpiMYoX20Lug
※Simultaneous worldwide distribution
■ Finalist work introduction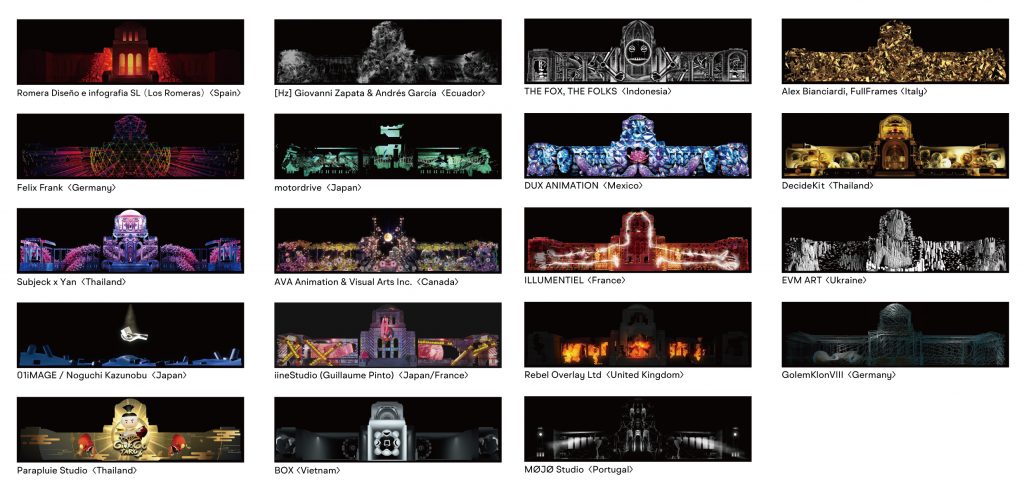 ■ Introduction of Judges
・Michiyuki Ishita (Representative of Projection Mapping Association / General Producer of Competition)
・Fumio Nanjo (Curator / Special Advisor of Mori Arts Center Gallery)
・Daito Manabe (Rhizomatiks / Artist / Programmer / DJ)
・Katsuyuki Motohiro (Film director / Director)
・Kento Tomiyoshi / Makoto Shozu / FLIGHTGRAF (Audio Visual Unit / Artist)
・Bart Kresa (USA / BART KRESA studio representative, master projection designer)
・Hendrik Wendler (Germany / GENIUS LOCI WEIMAR Managing Director)
・Joanie Lemercier (France / Visual Artist)
・Julia Shamsheieva (Ukraine / 3D Motion Designer)
■ About TOKYO LIGHT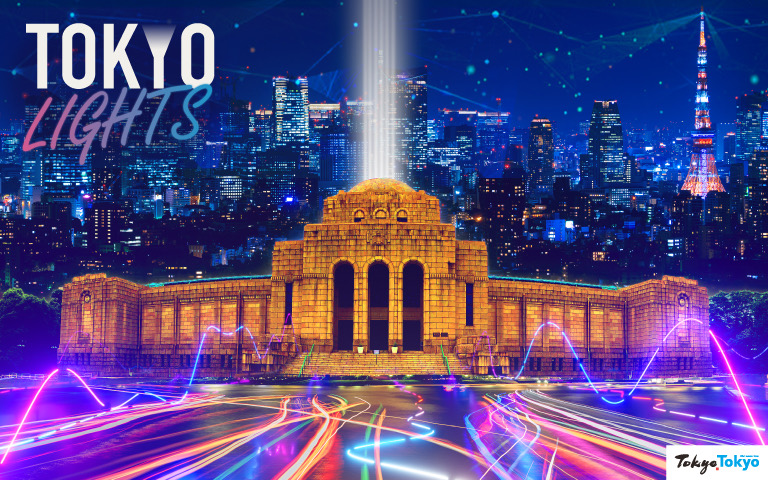 "TOKYO LIGHTS" was launched as a "light festival" that illuminates Tokyo, Japan's world-class international city, and delivers hope to the world through entertainment and art. Including "1minute Projection Mapping", one of the largest international projection mapping competitions in Asia, Futuristic fireworks entertainment "STAR ISLAND" team will develop a completely new expression of video and light that combines realistic performers, video technology, and cutting-edge fiber beam technology. There will be iconic installations at the venue such as pillars of light that embody the concept of sending light from Tokyo to the world. We plan to mobilize about 35,000 spectators in four days.
URL: https://tokyolights.jp/en
■ About Projection Mapping Association
Representative: Director Michiyuki Ishita
Location: 29-35-5 Sakuragaoka-cho, Shibuya-ku, Tokyo
Website: https://projection-mapping.jp/
International Competition Site: https://1minute-pm.com/en
【Inquiry】
Mail: info@projection-mapping.jp
(Projection Mapping Association of Japan Secretariat Hideki Fujii)