Mr. Hideki Nagasaki, Managing Director of Takenaka Co., Ltd. and Representative Director of SYM-DIRECT who leads Japan's projection mapping industry, has been selected as a jury of 1min-PM in Odawara Castle!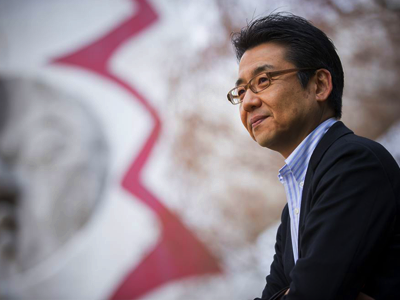 Hideki Nagasaki
Managing director of Takenaka Co., Ltd. and Representative director of Symdirect Inc.
After graduating from university, Hideki Nagasaki studied sound production/production of commercial music, radio commercials and radio programs at a sound production firm. After that, he made a wide range of experience to produce over advertising, exhibition, promotion, and convention at the promotion department in a major advertising agency. In 2002 Nagasaki joined Takenaka, and has taken part in event production, video and space direction. He participated in the launch of "BeamPainting", a Takenaka projection mapping brand in 2009, and has since produced much creation such as projection mapping with interactive elements. In recent years, he has combined laser animation and mapping to pursue new possibilities and broaden the scope of expression. He also started early on a collaboration of artwork and projection mapping, and eight mappings were performed at Taro Okamoto's Tower of the Sun, and five mappings were also done on Katsuhiko Chaen's sand sculptors.
<SYMDIRECT Inc. / Official WebSite>
https://www.symdirect.co.jp/
<Takenaka Co. / Official WebSite>
https://en.takenaka-co.co.jp/